Peridot Birthstone
Description: one of the birthstone's representing August is Peridot. Known as the "sun gem' this semi-precious stone is mainly made of olivine, iron and magnesium.
Colors: Peridots are mainly natural light green in color but variations in yellow can also be found.
Meaning:
• Peridot is considered to provide protection and health.
• Due to its color association with money it's believed to provide fortune and prosperity.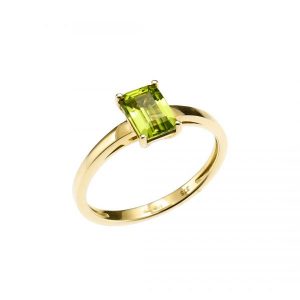 Spinel Birthstone
Description: another modern birthstone representing August is Spinel. Spinel's hardness makes it a durable gem for everyday use in jewellery. Spinel has often been mistaken for other gemstones like rubies or sapphires. Spinel is considered 'semi precious' and it is growing in popularity.
Colors: the most popular color of spinels are red and blue. However, spinels can be found in a variety of colors including pink, orange, purple and black.
Meaning:
• The Spinel is considered to provide a sense of relaxation and calmness.
Peridot & Spinel: At Fallers we stock a wide range of peridot rings, pendants, earrings, bracelets and more. Browse our birthstone jewellery collection now.