Pearls Birthstone
Pearls: One of the birthstones representing June is the pearl. Pearls are the only gems found within a living organism. Natural pearls are found inside molluscs like oysters and clams. Pearls are the most popular and traditional June birthstones.
Color: classic pearls are considered to be white but they are now available in a range of colors including silver, gold and more.
Meaning: pearls are associated with wisdom, honesty and purity.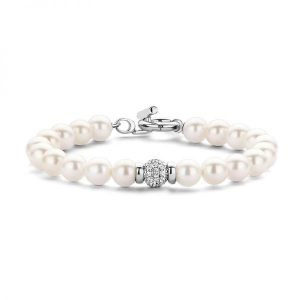 Alexandrite Birthstone
Alexandrite: Alexandrite is another birthstone representing June. Alexandrite's hardness makes it a durable gem. Its durability leads to being used for special occasions such as wedding anniversaries.
Color: Alexandrite is known for its remarkable color changes as its color varies dramatically depending on lighting. It's usually green in sunlight and red in incandescent light.
Meaning: Alexandrite is thought to promote confidence and increases self-esteem.
Pearl & Alexandrite: At Fallers, we have a range of pearl rings, pendants, earrings, bracelets and more. Shop our June birthstone jewellery  or browse our full birthstone jewellery collection now.