The new Swarovski Innovation & Inspirations for Fall/Winter 2018/19 is hitting the shelves and online here exclusively at fallers of Galway. The main theme for Swarovski this year is Light and Shadow, this year Swarovski have launched a new colour for this Scarlet can be found throughout the range this season. The main theme focuses around four sub trend themes, Funtasia , Nostalgia , Elegantia and Urbania.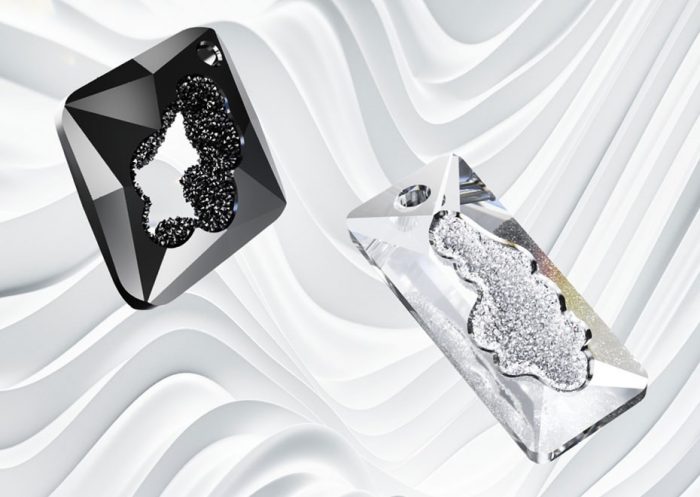 This Fall/Winter 18 Designer collection is by Iris van Herpen in partnership with Swarovski to launch the latest in its Designer Edition series. Pictured above are some of the crystal pendants designed by Iris van Herpen.
Swarovski crystal innovations are inspired by stories that define the mood of the moment. This season the story examines the world of Light & Shadow, Right and Wrong , black and white a world captured in the four trend themes. Fallers jewellers are delighted to showcase the entire range of Swarovski Jewellery and gifting wear instore and online. To view the entire range please click here
Click on the link below to view the full Swarovski Light & Shadow Video:
We are delighted to have achieved the overall largest growth in sales for Swarovski jewellery across Ireland and the United Kingdom. Fallers jewellers are delighted to announce this year that the full collection of Swarovski Crystal Giftware is available instore and online, exclusive to Galway.
Discover the full range of Swarovski jewellery and Giftware from Fallers of Galway. Free delivery on orders over €35 and Free Click & Collect. View the largest selection of Swarovski jewellery in our store on Williamsgate Street or online @ www.fallers.ie
#Swarovski #Swarovskijewellery #Swarovskifashion #Swarovskiremix #Swarovskiscarlet #Swarovskiswan #Swarovskiaw18 #SwarovskiAW18#Swarovskigifting #Swarovskiscarlet