1. How Much Should You Spend
Before you take to the shops online or offline, it is important to set your budget. Diamond engagement rings vary largely in price, knowing your budget will narrow down your search. A general rule of thumb would be to spend two months salary on the ring. Of course this is a personal decision and completely up to the buyer.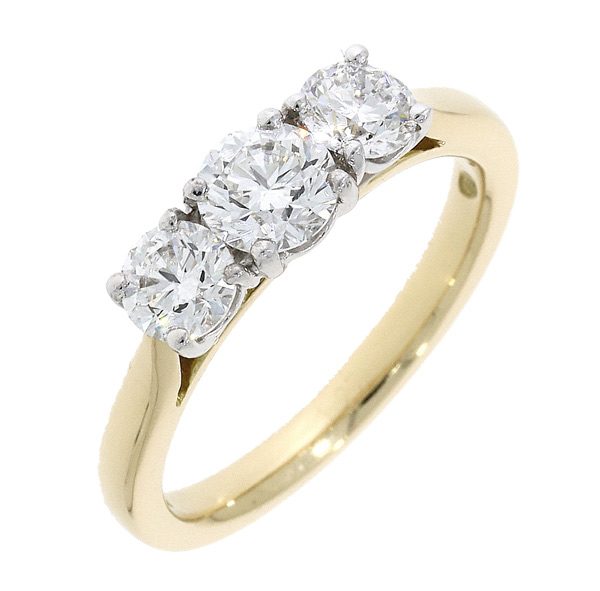 2. Choose Your Metal
It is a good idea to think about the jewellery your fiancé is already wearing when considering the metal. Yellow Gold is considered very classic and traditional. While White Gold tends to show off diamonds beautifully. However, it does require some maintenance. Coated in rhodium plating to enhance the shine, this metal would not suit anyone working with chemicals. Rose Gold has gained some popularity in recent years, and is favoured in vintage inspired designs. Platinum is the hardest metal, weightier than gold. It is typically the most the expensive choice.
3. Know The 4 C's
You must have heard mentions of the 4 C's in Diamond quality. Cut, Clarity, Colour and Carat.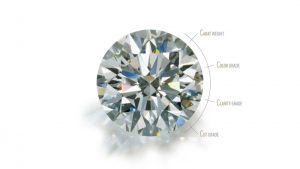 Cut
Probably the most important C, is the Cut of the diamond. This refers to the number of facets, the angle and alignment. The cut determines the sparkle of the diamond. Round Brilliant Cut Diamonds tend to have the most sparkle of all cuts. Hence they are the most popular choice in Engagement Rings.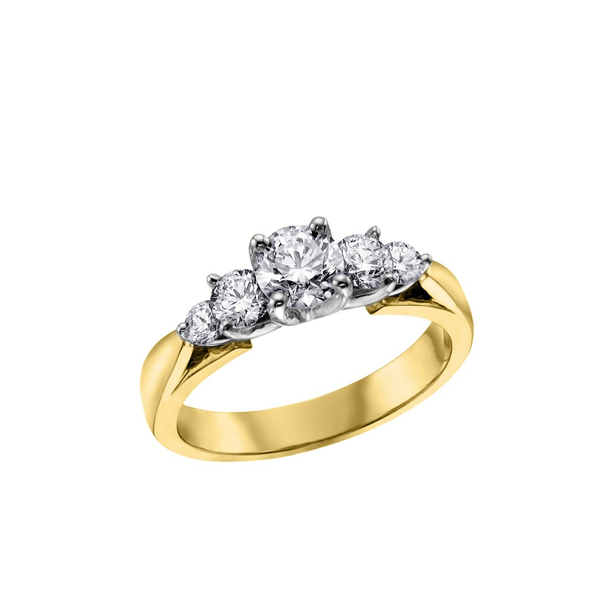 Clarity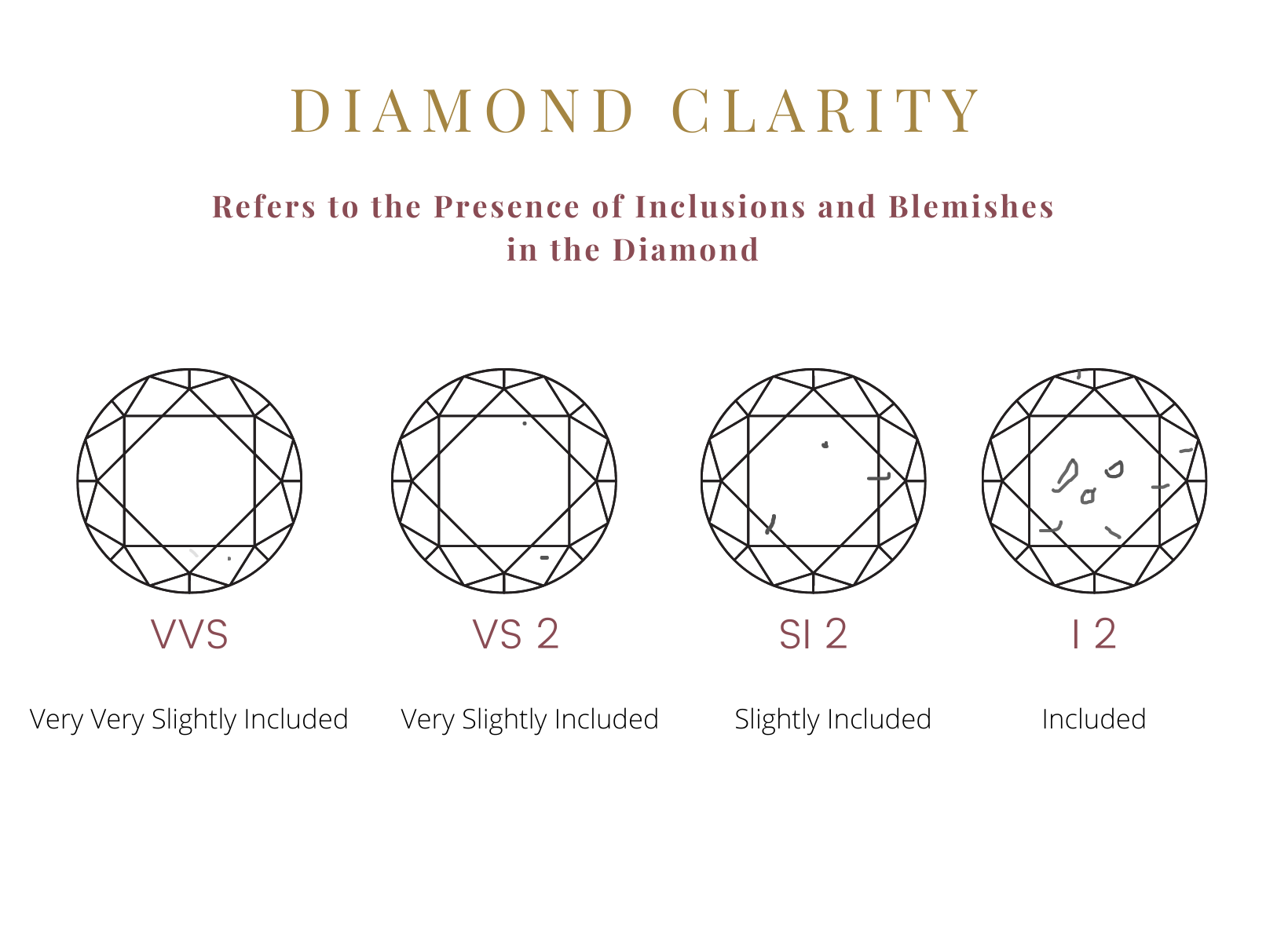 Clarity is a measure of how clear a diamond appears.  The GIA use the following to grade clarity :
(FL) Flawless 
No inclusions and no blemishes visible under 10x magnification
(IF) Internally Flawless
No inclusions visible under 10x magnification
(VVS1 and VVS2) Very, Very Slightly Included
Inclusions so slight they are difficult for a skilled grader to see under 10x magnification
(VS1 and VS2) Very Slightly Included
Inclusions are observed with effort under 10x magnification, but can be characterized as minor
(SI1 and SI2) Slightly Included
Inclusions are noticeable under 10x magnification
(I1, I2, and I3) Included
Inclusions are obvious under 10x magnification which may affect transparency and brilliance
Colour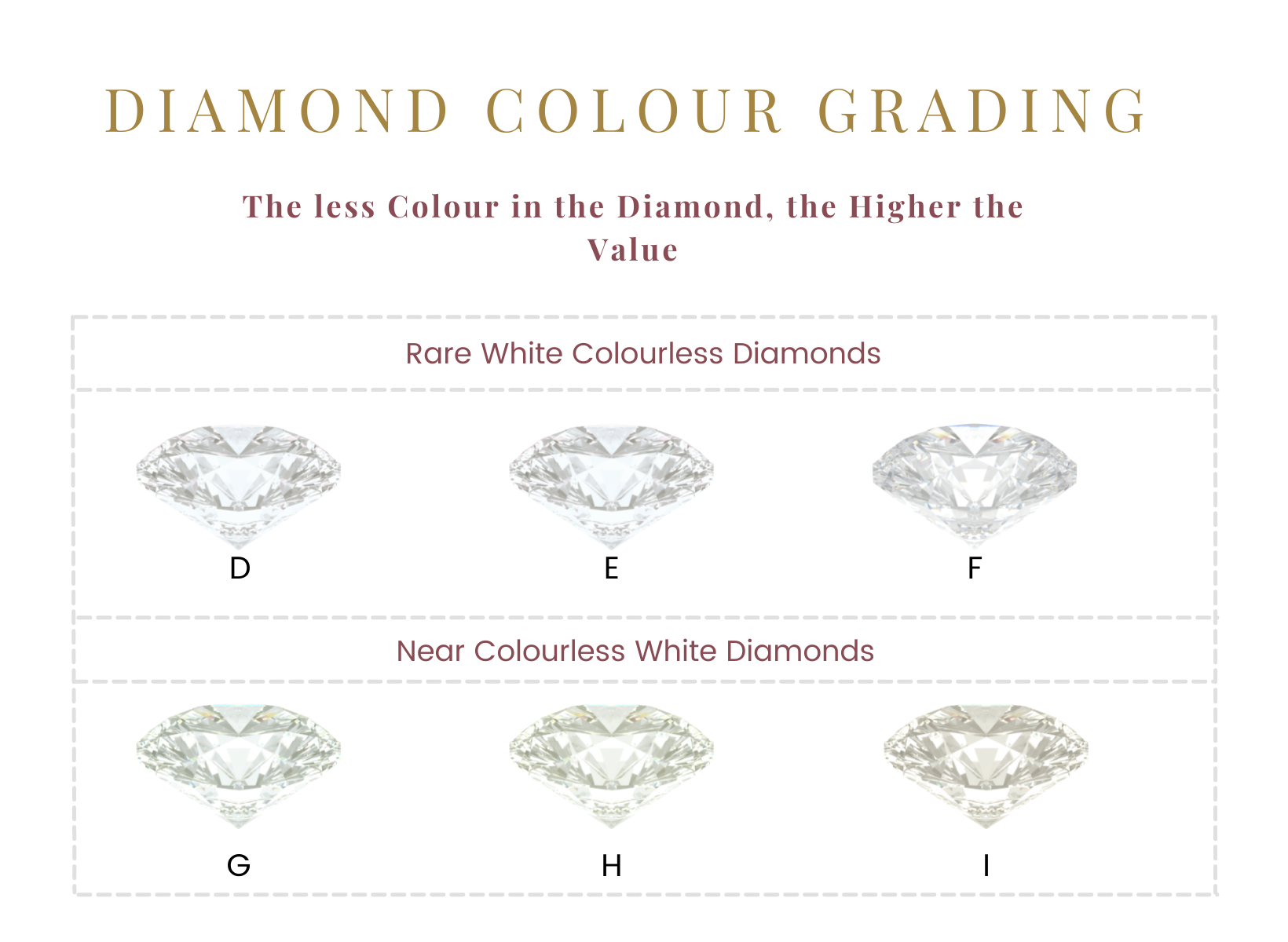 Diamonds are valued by how colourless they appear. Starting at D (colourless) and going up as far as Z (hints of brown and yellow). The less colour the higher the value. However, it is worth noting that many  would not notice the difference between a D and G unless placed side by side.  In  fact G-H are the most commonly bought.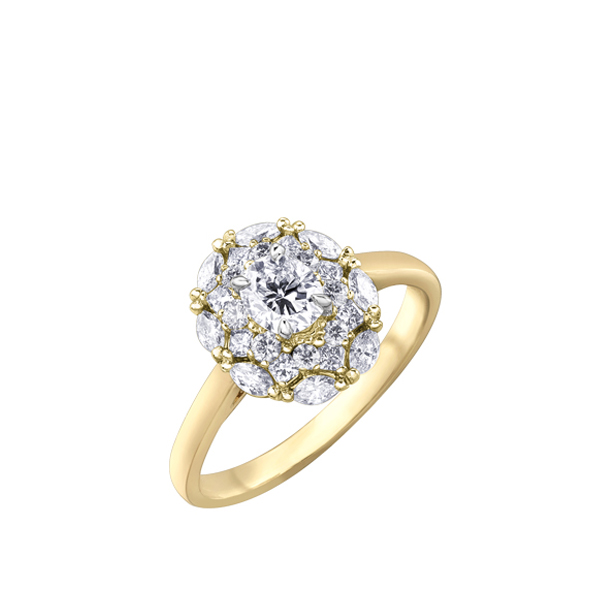 Carat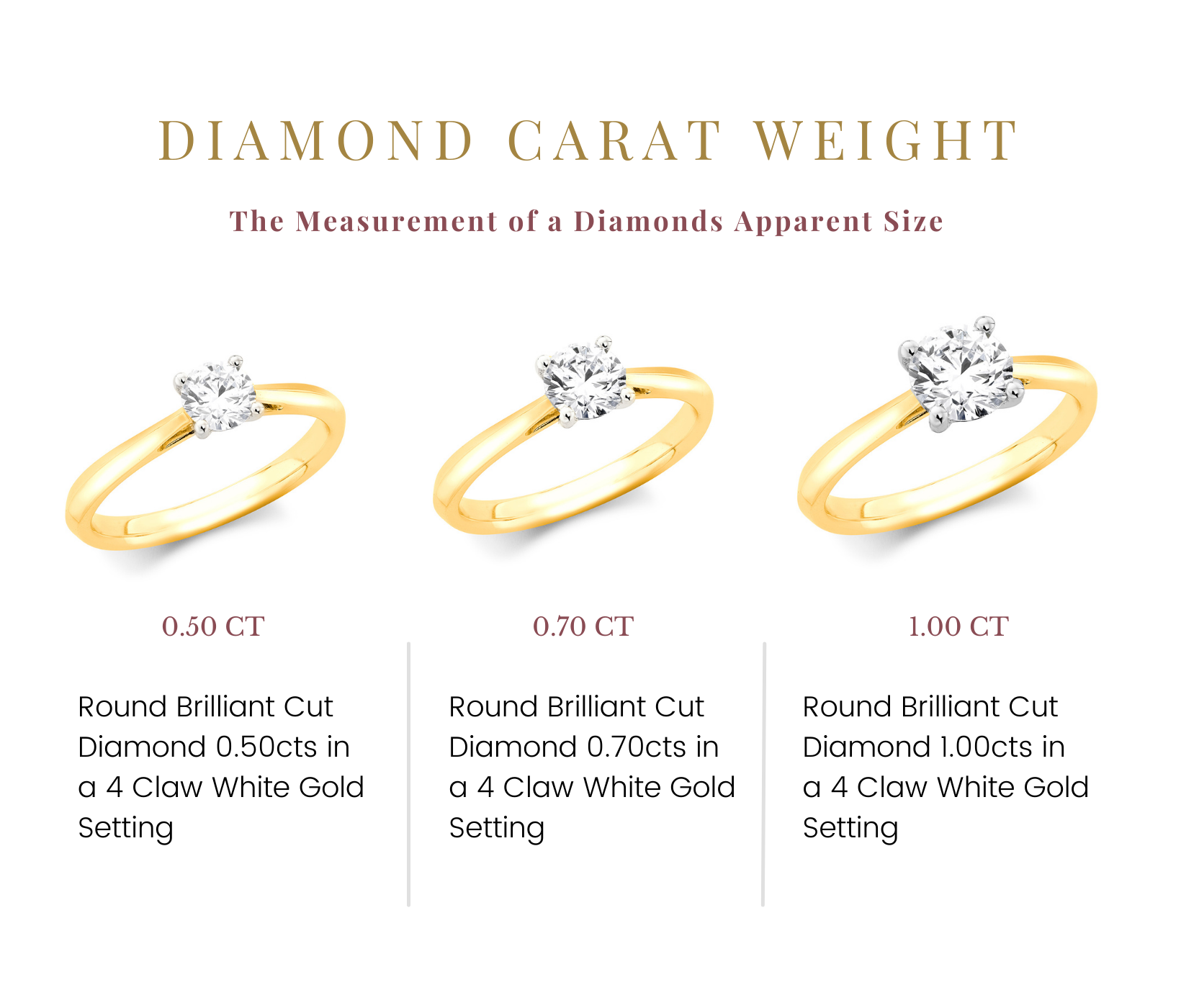 The Carat Weight (CT) measures the diamonds size. It is simply the weight of the stone. A carat equates to 200 milligrams. And each carat is made up of 100 'points'. You will often hear jewellers and sales associates describe the weight of a diamond below 1ct in terms of points. For example, a 0.25ct stone will be called a 'twenty-five pointer'. However, anything above 1ct will be described in carats and decimals. Therefore a 1.3ct stone will be described as 'one point three carats'
Of course because larger diamonds are so rare, the higher the Carat, the higher the price. If you or your partner would love a larger stone but don't have the budget to match, a Cluster type Engagement ring could be the best option for you. Offering a bigger show for a lower price, Clusters contain smaller diamonds set to form the traditional Diamond Shapes.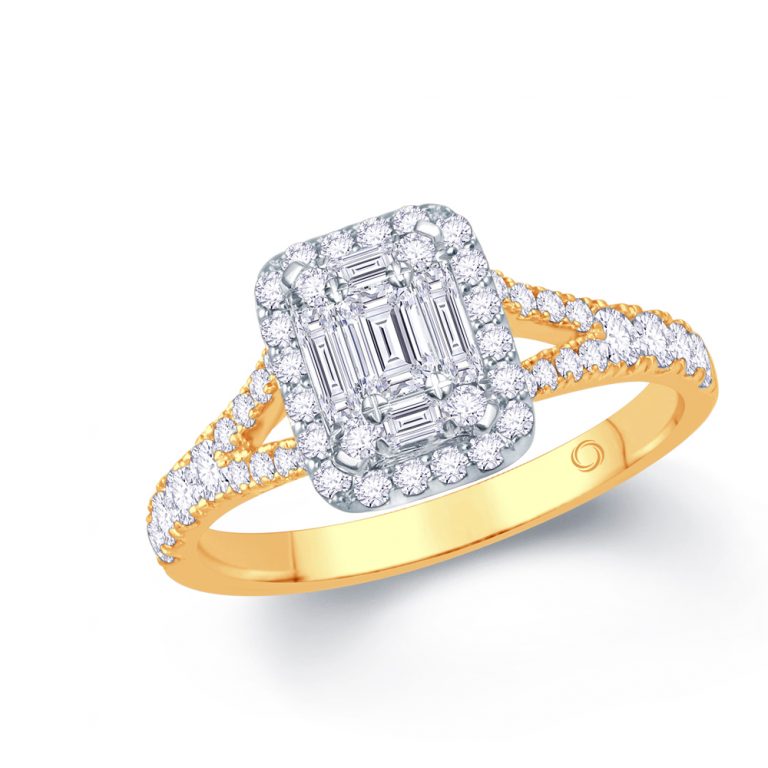 Another great option for larger diamonds without the hefty price tag is Lab Grown Diamonds. Our Guide on Lab Grown Diamonds will tell you everything you need to know to make an informed decision when shopping LG Diamond Engagement Rings.
It is also important to compromise when it comes to Diamond Engagement Ring shopping, as all the 4 Cs factor into the price. You might decide to go for a lower colour grade for a larger stone. Often we cannot tell the difference between a D and an F until they are side by side.
4. The Diamond Shape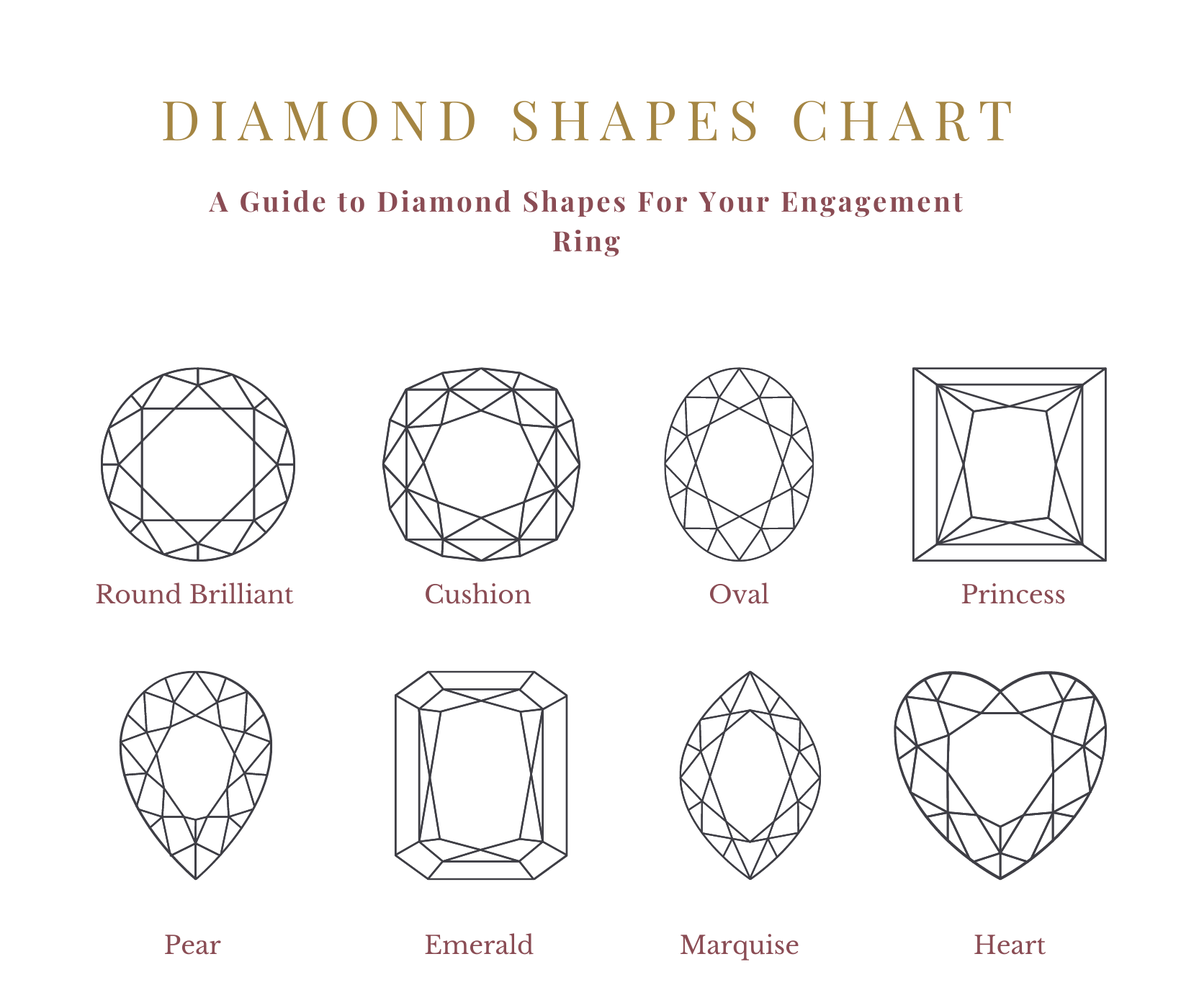 There are many different shapes to choose from, Pear, Emerald Cut, Princess Cut and Round Brilliant are just a few examples. As mentioned, Round Brilliants tend to be the most popular choice. Classic, elegant and timeless it is easy to see why. But for those looking for something a little different the Princess Cut is a great option. For lovers of all things Vintage, a Pear or Emerald Cut ring would be an excellent choice.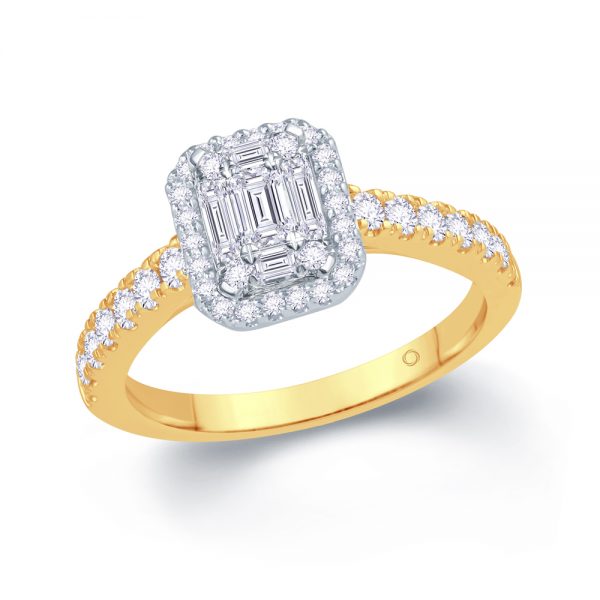 5. Don't Forget Your Gemstones
One of the most famous engagement rings is the Sapphire Cluster given to Princess Diana, now worn by the Duchess of Cambridge Kate. Sapphires, Rubies and Emeralds are not to be forgotten when considering an engagement ring. These beautiful vibrant stones are favoured by many and offer a striking alternative to Diamonds.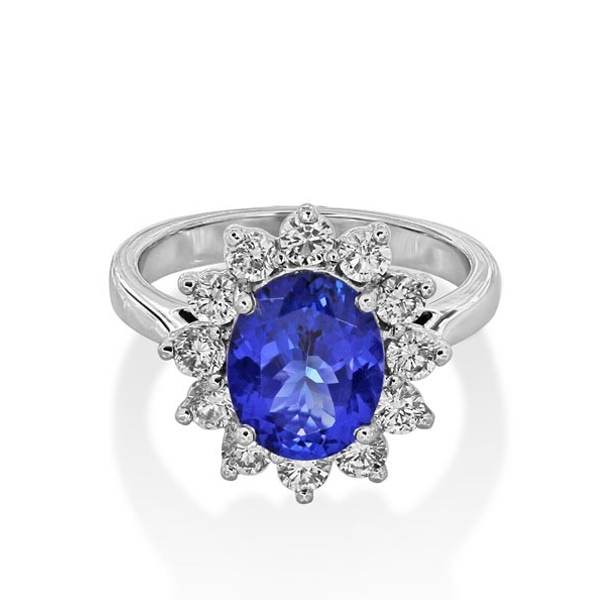 6. Consider Your Wedding Ring
Some engagement ring styles are simply stunning worn alone! However it is important to remember a wedding ring will be added at a later stage. Make sure you are happy with your choice and that the ring does in fact suit a second ring. Some styles will have wedding rings made to match. It is important to discuss when buying the Engagement Ring.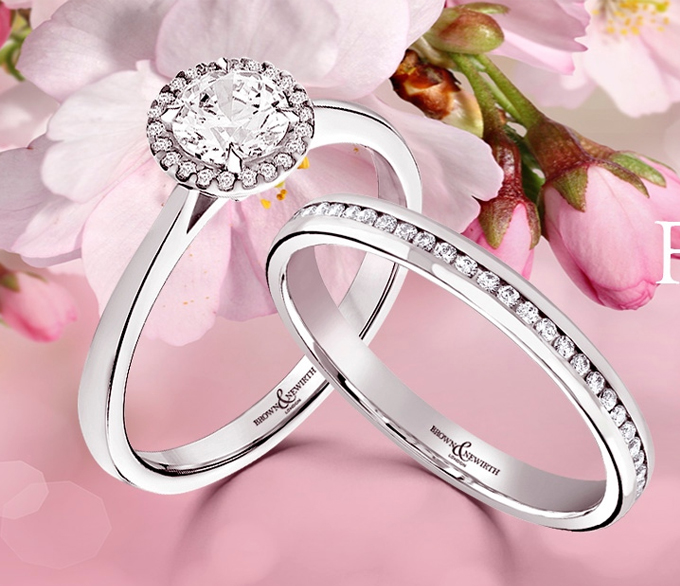 7. Get Measured
Whether buying for your fiancé as a surprise proposal or shopping together, it is vital to get the size right. Too loose and the ring will spin, too tight and it will be uncomfortable. Be sure to get measured. For tips on sizing read our ring size guide.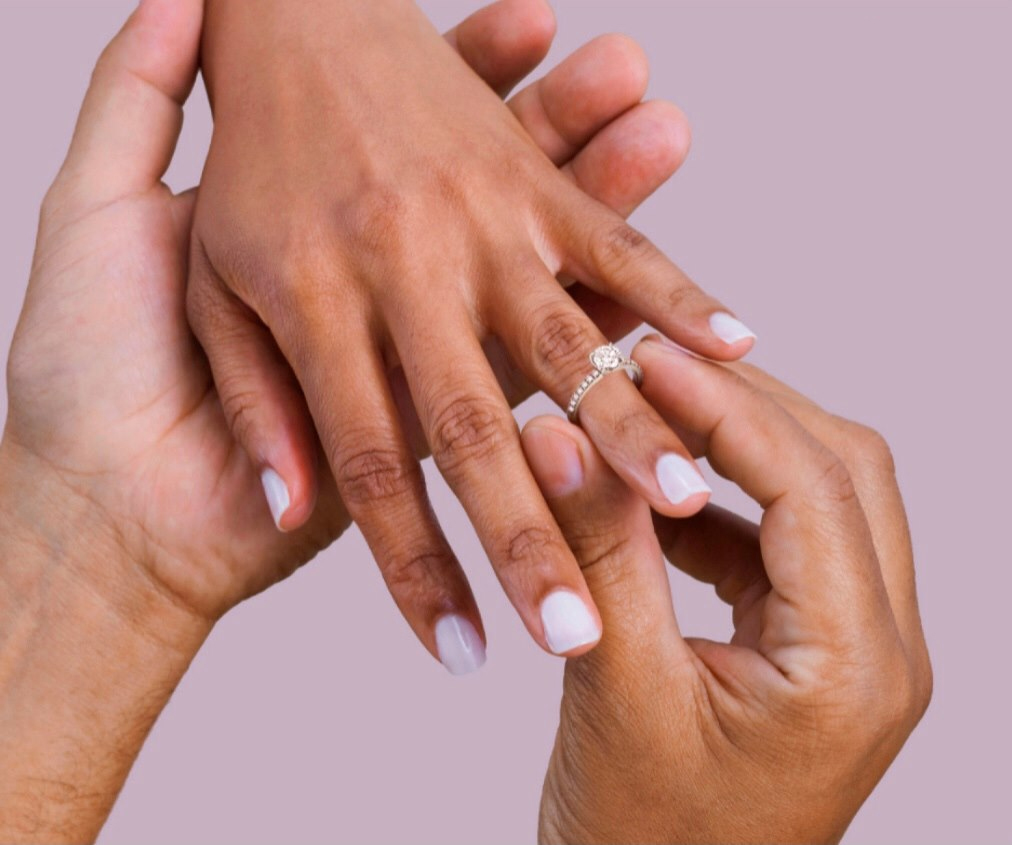 8. Diamonds Are Forever
A Diamond Engagement ring is for life. Therefore, it is important to buy what you love rather than what is in fashion. Don't get caught up in current trends when choosing your forever ring.
Our helpful and knowledgeable staff are here to help you choose this very special ring. Our website only shows the smallest selection of our diamond engagement ring range. With many more styles in our shop in Galway, you will not be disappointed. Book an appointment today with one of our experts to find your perfect ring.